SIGHT GLASS - YOUR PLUS IN SAFETY
METAGLAS – FOR ASEPTIC AND SANITARY APPLICATIONS
Metal fused sight glasses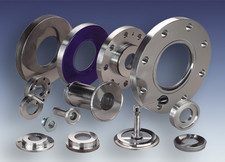 Metal fused sight glasses "METAGLAS®" consist of a sight glass that is fused into a steel ring.
The different expansion coefficients of glass and metal cause a compressive stress inside the glass. The mechanical prestress commands a higher security compared to thermal prestressed glasses. Because of the mechanical treatment of the steel ring, various constructive soultions can be realised.
At metal fused sight glasses, the glass is fused into a metal ring. Afterwards, the metal ring is followed up. In this way, extravagant designs can be realized. This is not possible with standard sight glasses.
Metaglas sight glasses comply with the requirements according to ASME BPE, are suitable for CIP cleaning and characterized by a compact design.
For aseptic applications, the sight glasses have a concave shape, either product side or both sides.